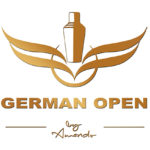 Schedule
• Arrival of all competitors on october, 25th
• Registration on the 25th at 6 pm, at the hotel lobby of Hotel Excelsior Nürnberg/Fürth (Registration Desk)
• Briefing – Competitors & Judges – on the 25th at 8 pm at the Hotel Excelsior Nürnberg/Fürth (separate room)
• October 26th, 2019 10am : qualifying round start
• October 27th, 2019 6:30pm : final round start / 11:30pm will be the Awards
…
Prize Money
Hard Facts for Flair:
Best Achievement Flair Award 2019
Best Flair Female 2019
Best Big Ass Moves 2019
Best Cocktails 2019 (from Qualification Round)
Money Prizes Flair:
1st place €2.500 + trophy
2nd place €1.700 + trophy
3rd place €1.000 + trophy
4th place €500 + plaque
5th place €300 + plaque
6th place €200 + plaque
Big Ass Moves:
Best Female:
1st place €800 + trophy
2nd place €400 + trophy
3rd place €200 + trophy
Best Cocktail:
1st place €150 + certification
2nd place €100 + certification
3rd place €50 + certification
Every competitor will get a certificate
PDF File : 9th German International Flair Open
…
General Rules
• Any violation of these rules may result in disqualification from the competition.
• Any acts that display low integrity, poor taste or disrespect for the competition, sponsors or the host facility are subject to disqualification from the competition.
• All bartenders are required to attend the registration meeting on October 25th, 6pm at the Hotel lobby
• All competing bartenders must be at least "18" years of age.
• Competitors can sign up by our Registration Form
• Competing bartenders will not be allowed to wear logos of any companies conflicting with the sponsors of the event.
• Music must be provided at the registration meeting in USB stick.
• Competition sponsors (products) include: ORTIZ IV Purest London Dry Gin, Eckes Granini, Monin, Giffard, Sierra Madre, Fabbri 1905 and more to come… You can use for your routine unlabeled bottles, doesn't matter what kind. We will use our own stickers. Most important, you have to put the original bottle on the bar. Spirits are allowed to use with label: Vodka, Rum, Tequila, Gin, Whiskey, Vermouths family, Bitters, your homemade syrups. Also we are allowing to bring you one "original" spirit/ liquer from your country (without original label, just our stickers )
• All rules, guidelines and drink recipes are subject to change at the discretion of the competition organizers.
• In case of getting more Sponsors, we will let you know in advance
• Each competitor will have "4" minutes of showtime in the qualification round, and "7" minutes of showtime in the final round.
• Classic- & Flair-Competitors will perform on different stages, in the same hall. After every Flair-Competitor we will continue directly with the following Classic-Bartender on separate stage (Classic- & Flair-Bartender alternating – Performance-/Showtime has to be used for preparation time on stage). After last Classic-Competitor we will continue just with Flair-Competitors
• All bottles used in the working flair must be set in at least 1/3 rd full. Judges will check ALL bottles before your performance.
• All bottles used in the exhibition flair must be set in at least 15ml, 1.5cl, 1/2oz of liquid
• All Sponsor-Bottles used must have their original sponsor brand labels intact. No competing brands to the sponsors may be used. No empty bottles can be included in the competition bar set up. Most important, you have to put the original bottle on the bartop at the end of your show
• A metal pour spout is required on the working flair bottles. Any free flowing pour spout can be used on all exhibition flair bottles. Pour spouts can taped in place, as long as they are not restricting the flow of liquid. Metal Pour spouts CANNOT be tapped/banged down!
• The following rules is a suggested rule to allow competitors to use bottles they are comfortable with on stage to give their best performance they can: Competitors can use as many and any clear, un-tinted glass bottles for their own choice of liquid. These bottles must have all branding removed. Each competitor choice -bottle can have no more than four (4) strips of tape, and up to two (2) stickers, you can use our stickers.
• Bartenders can set up the competition bar any way they choose, but it is highly recommended that nothing starts on the upper bar surface to help with visibility for both the audience and the judges.
• No fire tricks of any kind will be allowed.
• Top "10" from qualifying advances to the Finals plus Top 3 Female
…
SCORING – Total of 360 Points Available
FLAIR (200 points – 50 points per sub section)
Variety – To score well in this section we want to see competitor's flair everything they touch. If you pick up your juice and just pour with for example we will see that as a missed opportunity to flair. We will also be looking for a wide variety of moves. A flash (when all objects are in the air at the same time), Grabs, pours, bumps, taps, rolls, stalls etc.
Creativity – It is impossible for judges to know where every single move comes from and who made up which move, but our professional judges have a wide knowledge of flair and will be able to see if someone is copying or has taken moves from someone else. To score highly we want to see your own style, moves and creations throughout your routine. This is not just about the moves, it also takes into consideration the presentation of your routine, your music and how well or creative you are when you perform!
Difficulty – Just because you flair more objects at the same time, it doesn't necessarily mean that you are more difficult. A bump, tap and roll combination with a bottle and tin can be more difficult than some 4 bottle moves. Judges will be looking for difficult moves and skillful sequences. Linking together a lot of bumps/rolls/taps/reverse catches for example can help you score points.
Smoothness – Did you have a set routine, or where you just making it up as you go along? If you drop did you recover well or did you let it affect your performance. We want to see a routine, which is well balanced. We also want to see a smooth flairing style. We don't want to see you stopping to adjust grabs, or not putting your moves together well.
ENTERTAINMENT (100 points – 25 points per sub section)
Balance – Is your routine weighted correctly? The judges will be looking for a well thought out performance and not something that has not been planned. We want to see the routine build into a great finish.
Showmanship – Flair is all about entertaining people. You are putting on a show for the people that are in the venue, so we want to see you interact with them. This doesn't mean that you must wear a costume, just try and think what you want to see from a performance. One tip: A smile can make a big difference.
Music Interaction – Very straightforward! How well are you flairing in time with your music? The judges will be looking to see if you stop when the music stops/breaks, or do you flair with the beat of the tune. Are you interacting with the words of the song, or are you literally dancing with the music while you are flairing? Your routine should be choreographed from beginning to end.
Composure – Are you calm and relaxed on stage? Do you land all moves with confidence, do you recover well from any drops or mistakes? To score well here you must possess these abilities.
…
Drink Points in total 60 points
Points for your own creation Drink is counted as follows: Taste 20pts / Aroma 10pts/ Creativity 20pts / Garnish 10pts
…
DEDUCTIONS
Drop (3 points) – A drop is when the object you are flairing with is out of your control and falls to the floor or onto the bar. We will not count drops with a beverage napkins, straw, garnish or ice. Also if you are flairing 3 bottles for example and you drop two of them, then that will be counted as two drops. If you drop a bottle and it spills you will only be penalized for the drop, you will not be deducted for the spill as well. If you knock the bar and two tins falloff of the station you will be counted for two drops here as it is the fault of the bartender. If you are flairing 3 tins and one bottle and you drop all 3 tins which are all together and inside each other then this is only 1 drop, but if they are separated and you drop them then it is 3 drops.
Spill (2 points) – We will have two judges counting spills and then we will take the average from their results. A spill will be down to the judges' discretion.
Break (15points) – Whenever a glass object is smashed, either in mid air or on the floor.
Misc (5 points) – Missing ingredient, wrong ingredient or wrong procedure. We will be looking for beverage napkins, straw, garnish, plenty of ice, whether you used the correct procedure when making the required drinks and finally if you put in the required ingredients for the cocktail.
Empty Bottle Flair -3 Points per Bottle.
Missing Sponsor product in the drink -30
Missing Granini product or other fillers in the drink and/or bottle not placed next to the drink -30
Using Offensive music will result in Disqualification, its a children friendly place, so, watch out for that.
Missing Drink (40 points) – Quite simply, if you don't have the two drinks on the bar by the end of your routine, then it is considered as missing. If you have a glass on the bar top with ice but with no alcohol or mixer etc then that is a missing drink. If a drink is considered as missing you will not get deducted for the missing ingredients as well.
…
DRINK RECIPES
In qualifying you have to make 2 drinks of your own creation with at least minimum 1 sponsor produc; 4 minutes time. In final, you have to make 3 drinks, one build Sponsor & Granini product and 2 same drinks own creation at least with minimum 1 sponsor product. 7 minutes time. Send us your own recipes via the Registration Form
1. Drink: Name
2. Sponsor (Sponsor bottles must be placed next to the glass)
3. the drink must have minimum 1 sponsors product from the list
…
COMPETITION TOOLS
• We will use a FLAIR barstation
• Bottles Competitors will bring their own bottles and equipment
• Glassware – We will provide Schott&Zwiesel Glassware, but if you want special glassware, you should bring it yourself.
• Pour Spouts – Metal pours for working flair and metal and/or plastic for exhibition